Services at
Hoover Spine and Joint Center
At
Hoover Spine and Joint Center
, we provide an extensive array of health-promoting services to our patients. One or more therapies will be recommended to get you the best possible results.
Chiropractic Care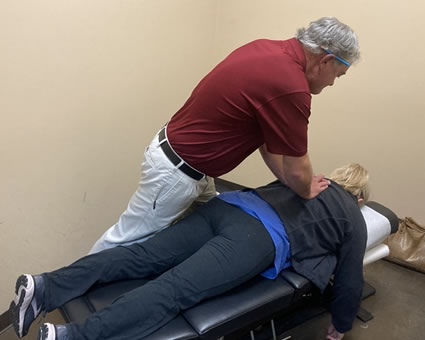 From hands-on manual techniques to instrument-assisted ones, Dr. Smith has many tools in his toolbox to deliver customized chiropractic care to his patients. If you prefer to be adjusted in a particular way, please let him know.
Laser Therapy
This modality is highly effective in relieving pain, decreasing inflammation and promoting healing. Laser therapy can successfully address many conditions such as arthritis, tendonitis, carpal tunnel syndrome, fibromyalgia and more.
Physical Therapy
Dr. Smith will prescribe customized exercise programs that are tailored to meet the unique needs of each patient. These include stretches and repetitious exercises based on what their diagnosis is. Dr. Smith supervises the programs.
Spinal Decompression
Spinal Decompression is particularly useful for patients who suffer from spinal pain and pain radiating into their arms and legs. It specifically targets cervical and lumbar disc issues, including bulging discs, slipped discs and herniated discs.
Conditions We See
Here are some of the many issues we see at the practice:
Auto accident injuries
Back pain
Fibromyalgia
Headaches
Neck pain
Peripheral Neuropathy
Post-surgical recovery
Sciatica

Hoover Spine and Joint Center Services | (205) 536-7758